Ifeanyi Arthur Okowa is a Nigerian politician and medical doctor. He is the incumbent Governor of Delta State since May 2015 and has served as a Senator of the Federal Republic of Nigeria for Delta North Senatorial District.
He is a member of the Peoples Democratic Party (PDP) and was chosen as the party's vice presidential nominee in the 2023 presidential election by Atiku Abubakar on June 16, 2022.
He was born on the 8th of July, 1959, and is 63 years old. Ifeanyi Okowa is a Christian born in Owa-Alero, Delta State, Nigeria and he identifies as an Igbo person.
ATTENTION: Click "HERE" to join our WhatsApp group and receive News updates directly on your WhatsApp!
Early Life/ Education
Governor Ifeanyi Okowa was born to Late Mr. Arthur Okowa who was a teacher, and late Mrs. Victoria, his mother, on the 8th of July, 1959. He is an Igbo from the Anioma Ika tribe, one of many Igbo settlements in Delta State.
Okowa was raised in Owa-Alero, a local government area in Delta State's Ika North-East with his Christian parents and siblings.
They were taught by their father to be courageous as their late father fought for those who could not fight while suffering victimization because he fought for the truth.
He had his early education at the Iroro primary school, Owa-Alero from 1965 to 1969 and later attended the famous Edo College, Benin City from where he obtained his West Africa School Certificate in 1974 and also his Higher School Certificate in 1976.
In the 1976 Higher School Certificate Examination in the then Bendel State, he graduated with the second-best result.
Thereafter, he proceeded to the University of Ibadan in Oyo State to study Medicine and Surgery, where he graduated in 1981 with an MBBS, at the record age of 22.
He did his internship with the Central Hospital, Benin City (1981-1982) upon completion of the National Youth Service Corps with the Primary Health Care Department in Ahiazu-Mbaise Local Government Council, Imo State (1982-1983).
Family
Ifeanyi Okowa is happily married to Her Excellency, Dame Edith Okowa. They have been married for more than 30 years and have four children -one boy and three girls.
Their names are Marilyn Okowa-Daramola, Mildred Okowa, Ewere Okowa, and Marvin Okowa.
Dr. Okowa has lost both his parents and also his elder brother Johnbull Okowa, who is his half brother from his mother, to chronic cancer.
His known remaining siblings are his younger brothers Mr. Tony Okowa the chairman of the sports commission and Mr. Wisdom Okowa.
Medical Career
After Ifeanyi Okowa finished his NYSC in 1983, he worked briefly with the defunct Bendel State Hospitals Management Board as a Medical Officer, he went into private practice as Director, Victory Medical Centre, Igbanke in 1986.
He left Victory Medical Centre at Igbanke and went on to open another branch at Boji-Boji, Owa.
Political Career
Okowa first established himself in local politics as a Secretary to the Ika Local Government Area, before becoming Chairman from 1991 to 1993.
He went on to become the coordinator of the Grassroots Democratic Party (GDP) in Delta State.
Okowa defected to the Peoples Democratic Party (PDP) in 1998 where he played a major role in James Ibori's gubernatorial campaign.
He entered the state cabinet of Governor James Ibori as the commissioner of Agricultural and Natural resources in the Delta State Government in 1999.
Later in 2001, he became the Water resources development commissioner and then the commissioner for health in 2003.
He lost in the PDP governorship primaries in Delta State to Emmanuel Uduaghan in 2006 after buying the nomination form.
He became the secretary to Delta State Governor, Gov. Emmanuel Uduaghan during his administration in 2007.
After picking the nomination form for the Delta State governorship election under the platform of PDP, he won in the January 2011 primaries.
After defeating Marian Amaka Alli, he went on to defeat Democratic People's Party Prince Ned Nwoko Munir winning the Gubernatorial election and becoming the Delta State senator of Delta North in April 2011.
He was the senator of Delta State for four years and contested for the governorship in 2015 where he won the party's primaries and also the state's gubernatorial election to become the Delta State Governor ruling for four years and was sworn in on the 29th of May, 2015.
He contested again for the second term in office under the platform of the People's Democratic Party, defeating Great Ogboru of the All Progressive Party in 2019.
In 2020, he created the University of Delta in his hometown Agbor and also set up the Dennis Osadebe University in Anwai and the University of Science and Technology in Ozoro in Delta State.
In June 2022, Okowa was picked as the vice presidential candidate of the Peoples Democratic Party, as running mate to Atiku Abubakar for the 2023 election.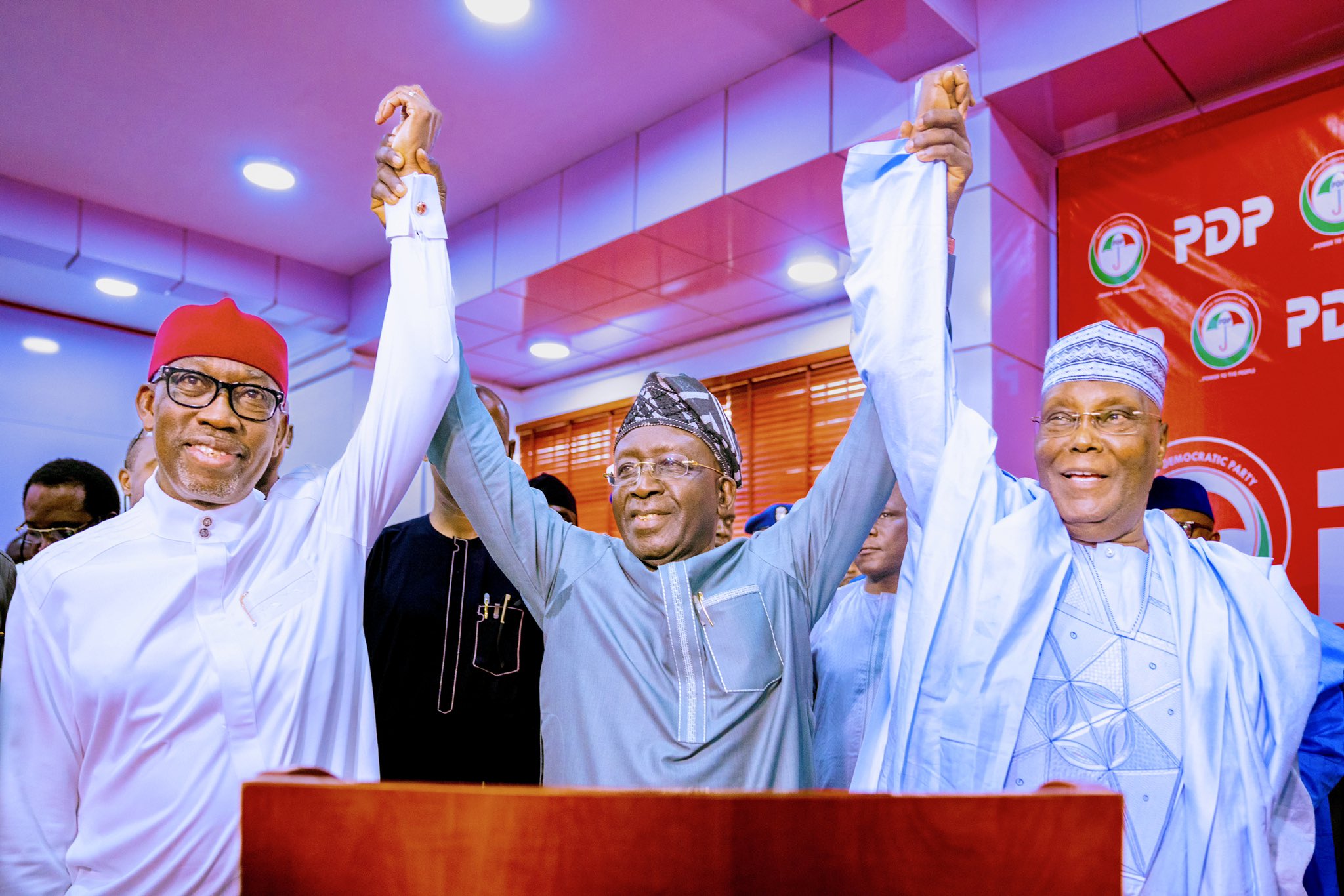 Sources of wealth
Governor Ifeanyi Okowa's wealth was obtained through his years as a medical doctor and his career as a politician.
Okowa Net Worth
He has had a successful career earning him a luxurious life. Okowa's estimated net worth is around $11 million.
Corrupt Cases/Allegations
Governor Okowa has been accused of corrupt dealing as his first term was laced with shady dealings of the state Delta Line Bus Company.
He announced the privatization of the company where 60% was bought at #160 million by God is Good Transport Development Company (GTDC) and the remaining 40% stayed under the Delta State government's ownership.
It was later known that Chidi Ajaere, the owner of GTDC supported Okowa's campaign in 2015. The Amalgamated Union of Public Corporation, Civil Service Technical and Recreational Services Employees (AUPCTRE) claimed they offered #2 billion while the GTDC initially offered #80 million but was chosen over the AUPCTRE when they increased their offer to #160 million which they paid in installments.
GTDC also denied any involvement with Governor Okowa stating that they were the most qualified bidder.
An investigation by the International Centre for Investigative Reporting in December 2021 discovered irregularities in expenditures, evidence of financial misappropriation, and disregard for financial regulations in the Auditor-General's annual report of Delta State for 2019.
During his administration his members could not account for missing #278.5 million in public funds, they illegally ignored Freedom of Information requests and the State Board of Internal Revenue's dubious use of #107.74 million in funds along with many others.
Governor Okowa has not stepped forward to explain and rectify the situation leaving many questioning his morals.
Awards
Governor Ifeanyi Okowa has received awards such as the Man of the Year 2017 by the Independent Newspaper and has won the Alumni of the year 2016 in the University of Ibadan after his speech on 'Good Governance for Wealth Creation and Sustainable Development: Experience and Lessons.'
As Atiku Abubakar's running mate, he compliments his partner with his wisdom and humility.
Continue Reading:
Kashim Shettima Biography, Age, Career, Source of Wealth, Corruption Cases
Peter Obi Biography, Family, Net Worth, Businesses, Career
Bola Tinubu Biography, Age, Family, Career, Source of Wealth
RECOMMENDED:
Apply For Fully Funded Scholarships in Europe
Apply For Fully Funded Scholarships in Canada